Fleetwood Town's Community Trust has been working with Fleetwood Together, which comprises groups and charities within the area, all with the same goal of supporting vulnerable families and people isolated and in need within Fleetwood during these particularly troubling times.
All of the food for the Christmas dinners was prepared by chefs from Fleetwood Town Football Club before Community Trust staff and volunteers packaged it up. Fleetwood Together then distributed the meals across Fleetwood and surrounding areas, along with residents' food bank deliveries, just in time for Christmas.
The Community Trust along with their official Corporate Social Responsibility partner, BES Utilities, also raised over £2,000 to purchase gifts for disadvantaged children across the town, as part of Fleetwood Together's Christmas campaign.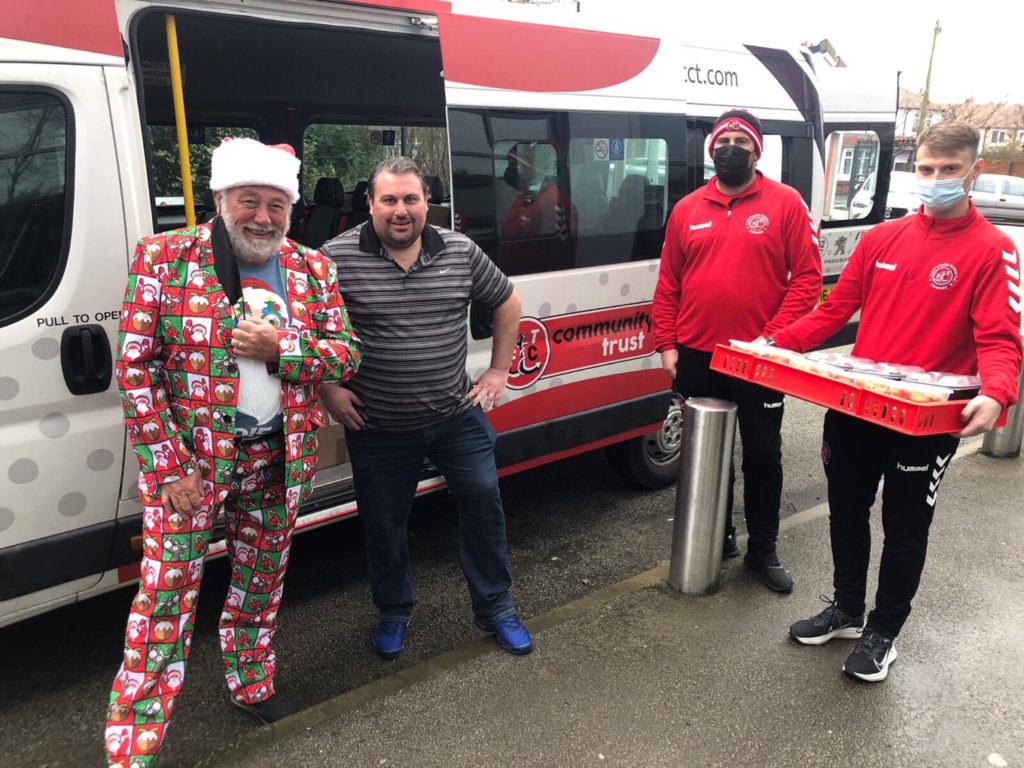 Social isolation and loneliness are pressing and difficult public health issues increasingly affecting us both individually and as communities. With an ageing population in Wyre, and changing structure of families and communities, an increasing number of older people are becoming socially isolated and lonely.
Even before the Coronavirus outbreak, one in five of us already said we often or always felt lonely, so the Community Trust decided to do something to help tackle social isolation and loneliness across the area, by setting up a befriending service.
Volunteers from the Community Trust and BES Utilities have been contacting vulnerable residents, and engaging with them through phone calls, video calls and quizzes.
As part of an intergenerational project, letters have also been exchanged between students at Shakespeare Primary School and members of Fleetwood Town Former Players Association as a means of remembering the past. This project aims to highlight the importance of staying connected and showing compassion, particularly with isolated or older people.
Andy Pilley, owner and Chairman of Fleetwood Town Football Club, and owner of BES Utilities, said:
"Christmas can be a difficult time for many people, and especially so during 2020 when more people than ever have been suffering due to poverty and isolation caused by the Coronavirus."

"As two of the largest employers in the area, the Football Club and BES Utilities both have a huge part to play in supporting the local community, and it's been fantastic to see so many of our people volunteering to help those less fortunate. I'm enormously proud of everyone involved and it was a pleasure to also donate some much-needed cash towards the Christmas meal campaign."
Matt Hilton, Chief Executive of the Community Trust, said:
"Making a positive difference within our local communities is at the forefront of what we do, and there has never been a more vital time than now when so many people are struggling.

"We're truly grateful for all the support from BES Utilities and Fleetwood Town Football Club, as with their help, we have been able to reach so many people across Wyre and surrounding areas over the festive period and make a difference to their lives."